This article includes basic information about Fibre Channel (FC), as well as configuration recommendations of Fibre Channel HBAs (host bus adapters), expected throughput examples, and troubleshooting steps that can help our users achieve optimum results with their FC-enabled EVO shared storage system.
Fibre Channel continues to be an adaptive and resilient method of data transferal, as well as one of the most reliable approaches to storage area network (SAN) copying and retrieval. Similar to iSCSI, workstations connected to a SAN see the share as being indistinguishable from its own disks, without the intermediary of a NAS server and specific file-sharing protocol.
Please keep in mind that throughput numbers contained in this article only reflect the results of a single workstation writing to or reading from the EVO system, and are not indicative of the total throughput and speed an EVO is capable of delivering to multiple users. (Refer to the Latest metrics section for more details on single workstation throughput results over Fibre Channel.)
---
Ha
rdware compatibility
As there are many Fibre Channel HBAs on the market, it is important to verify that the one utilized in your network setup is compatible with EVO and our other products.
Fortunately, many of the cards we have found to provide the best performance over Fibre Channel with EVO and SANmp are also some of the most commonly used. These include the ATTO Celerity series, many Emulex and LSI adapters, and the QLogic QLE series. While the instructions given in this article for achieving good Fibre Channel performance are mostly generic, more card-specific recommendations are given later in the document.
If you are using SANmp you should also note that SANmp makes use of a special whitelist of Fibre Channel adapters we know to be compatible with our software. New adapters are added to the whitelist with newer versions of SANmp, and in some cases it may be necessary to manually add your adapter to the whitelist.
---
Verifying your connection
There are two menus in the EVO interface which should be looked over when double-checking a Fibre Channel connection. The first is found at the bottom of EVO's Connectivity menu in the Fibre Channel Ports field. From this section you can review the speed and current mode of both the active and inactive Fibre Channel interfaces used by EVO. Keep in mind that any change to these settings requires a reboot of EVO before going into effect.
In most cases the Mode option should be set to "target," the setting which provides access to all of the EVO shares currently mapped to be used over this Fibre Channel port. "Initiator" mode is devoted to using the EVO to connect to disks on another system shared over Fibre Channel (aka "Bridging" or "Bridge mode").
It is generally recommended to keep this value set to "Auto" unless you are troubleshooting an issue or have a specific reason for toggling it. To ensure good performance, make sure that the speed rate set for EVO matches that of your workstation. (If the value in Current Speed is lower than expected (e.g. the current speed links at 4Gb even though you are using 8Gb) then it is recommended to manually set the speed; if the speed then fails to negotiate this may indicate a number of things including mismatched transceivers, incomplete switch configuration, or a bad cable.)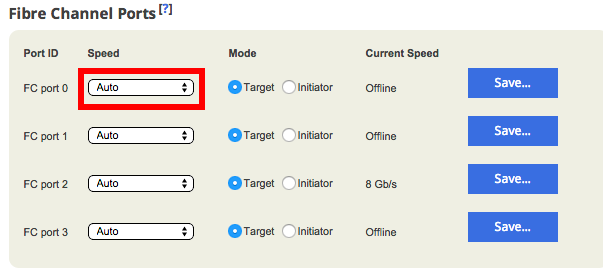 EVO's Fibre Channel Target menu should also be seen when reviewing your FC setup. From this screen you can map new drives to Fibre Channel as well as see more detailed information on the currently active interfaces.
To start off, you should make sure that the volume you intend to use over Fibre Channel has been mapped to the correct port and LUN. When mapping a new volume to Fibre Channel, EVO will attempt to make the share accessible on every available Fibre Channel port, as well as the appropriate LUN.
(You should always ensure that each FC port has a LUN 0. EVO will generally take care that each FC port automatically has a LUN 0, but in some rare cases — such as manually numbering your LUNs or specifically deleting a LUN 0 — it can be possible for a port to be left without a LUN 0. If a port does not have a LUN 0 then it is possible the FC-connected workstation will not see any other LUNs mapped to this port.)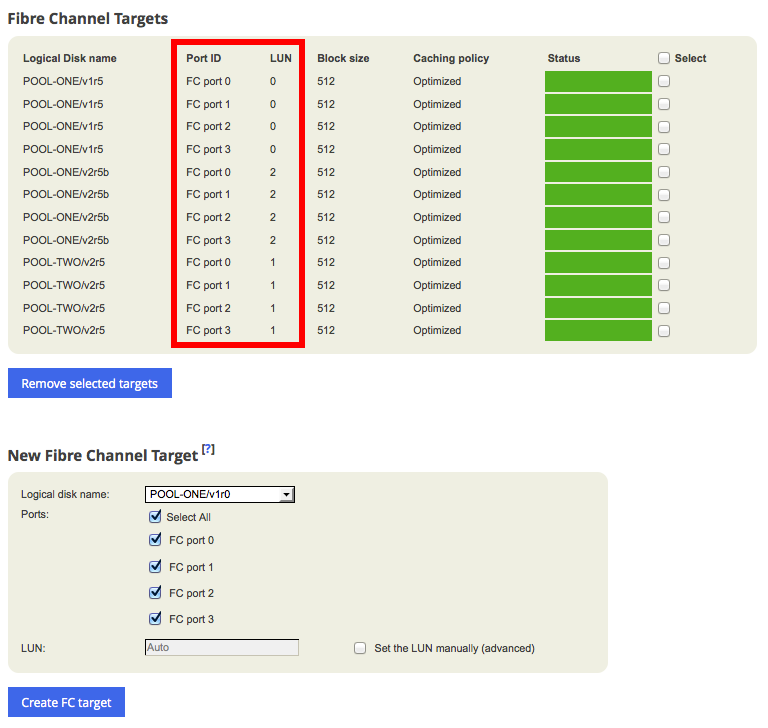 More in-depth information on creating and maintaining shares intended to be used over Fibre Channel can be found in the EVO manual, which is accessible from the Help menu on every screen of the EVO user interface.
---
Cabling and transceivers
In addition to making sure your Fibre Channel HBA is properly configured and that the EVO-side options of your FC connection are correctly set, you should also verify that your network cabling is able to handle the necessary amount of bandwidth. We currently recommend duplex fiber optic cabling be used for all Fibre Channel purposes.
More detailed recommendations on cabling and transceivers can be found in our Getting started with SNS products article.
---
Card-specific recommendations
All Fibre Channel adapters should be set to FC-AL. Other general adapter-specific recommendations, if any exist for the HBA you are using, are noted below:
ATTO Celerity (OS X)
We have been advised by ATTO and confirmed through our own testing that the performance of the ATTO Celerity series of Fibre Channel HBAs on OS X is generally optimal with EVO if the IO size is set to the non-default value of 256KB.
To modify the NVRAM setting and set the IO size of the adapter, issue the following Terminal command into a recent version of OS X: sudo nvram atto-args-celerityfc8="-e 0faff7ff -i 40000". You will need the workstation administrator's password to change this setting.
ATTO Celerity (Windows)
Windows users of the ATTO Celerity series are advised to download our ATTO registry patch, accessible from the Bug Fixes and Known Issues section of your EVO's welcome page, and install it on each Windows computer that will connect with an ATTO adapter.
Any LSI-based Adapter (OS X)
If you are using an LSI-based adapter, including the Ellipse HBA, we recommend using Apple's default driver as of OS X 10.7.
---
Latest metrics
Summary: It can generally be expected that a single workstation directly connected to an EVO via 8GB/s Fibre Channel and installed into an appropriate PCIe slot on the workstation's system board, using a RAID-5 on a typical eight disk pool, will yield speeds of ~600MB/s writes and ~700MB/s reads in OS X, and slightly lower than that in Windows. Rates can differ depending on a number of things like the OS/version, HBA/driver, and benchmark test or individual application being used.
Keep in mind that in most cases your Fibre Channel speeds will noticeably decrease if the HBA is contained in an external Thunderbolt or USB chassis instead of being installed directly into a PCIe slot on the workstation's motherboard. If at all possible, we recommend plugging the card directly into the PCIe slot on the host workstation.
For more details: Current EVO customers can view our most up-to-date metrics of Fibre Channel performance with various setups and benchmark tests in our guide to expected FC throughput.
As we regularly test FC performance with new versions of EVO, OS X, and Windows, and different hardware revisions, these numbers will always reflect the most recent performance rates we have seen over Fibre Channel.
---
Network switches
In order to more easily determine and consistently achieve maximum throughput over Fibre Channel, it is recommended that each of your Fibre Channel workstations be directly connected to one of EVO's Fibre Channel ports, without a Fibre Channel switch in-between. While we understand that switches are often unavoidable, especially for complex environments, the use of a switch does have the potential to both cause issues as well as make issues more difficult to diagnose.
If you have followed all the recommendations in this article and are still experiencing connectivity issues or suboptimal Fibre Channel performance in a switched environment, we strongly recommend temporarily bypassing any switches and attempting a direct connection from the FC HBA card in your workstation to EVO to verify that the problem is positively not switch-related.
---
Helping us diagnose a performance issue
It is important to know that the results of benchmarking utilities can vary widely across different FC HBAs, operating systems, minor versions of operating systems, and in certain cases even between different versions of the same testing utility. In order to ensure that our customers receive the best possible FC performance from EVO, our products undergo a rigorous suite of tests under different network and host configurations in order to develop a recommended environment for optimum performance.
Yet if you are still experiencing FC performance issues after following the suggestions in this article, please consider sending us the results of the AJA System Test, a user-friendly tool we have found to provide relatively consistent results across different protocols and operating systems. To use AJA System Test to exercise its highest level of throughput, we recommend setting the video frame size to "4096x2160 10-bit RGB" and using a file size of 16 GB.
For reference, these were our Disk Read/Write results using AJA System Test 10.5.2, via Fibre Channel on a Mac Pro 5,1 using OS X 10.9.5, 8 disk RAID 5, and an ATTO Celerity FC-81EN with an IO size of 256KB.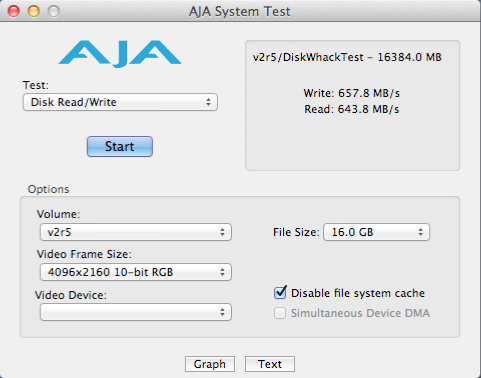 ---
Contacting us
Studio Network Solutions is committed to providing a successful and reliable platform for our customers' projects. If you are finding that even after testing your Fibre Channel speeds are not comparable to ours, either in these screenshots or our latest metrics, please consider opening a support ticket with us a description of the issue and your network configuration.
As always, we can be reached through the Support Center page on our website.