One of the ShareBrowser Client Preferences is to auto-mount volumes at login.
This feature stores a local preference file of the mount modes for volumes used in the ShareBrowser session.
From the ShareBrowser Menu Bar on Mac or the ShareBrowser File Menu on Windows, select Preferences. With the "Auto-mount volumes upon login" preference enabled, any SANmp volumes or EVO NAS shares will be remounted with the same modes the next time that user logs in.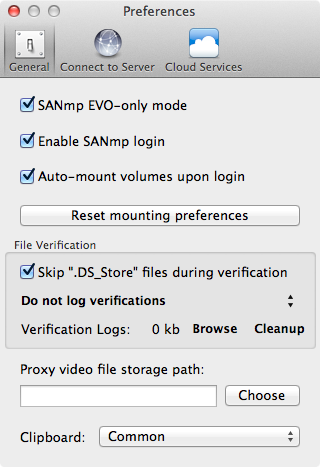 SANmp Volumes
When quitting ShareBrowser Client, users will be prompted with a notification asking if they would like to unmount their SANmp volumes. If a user chooses to unmount using the prompt at the time of quitting, the SANmp volumes will be auto-mounted at next login.
EVO NAS shares
With EVO NAS shares, users may be prompted to enter their NAS credentials before the auto-mount completes, but after logging in to ShareBrowser. If users save their NAS credentials in the OS, such as the Mac OS Keychain, then they will not be prompted to enter their username and password when mounting EVO NAS shares.