System Requirements:
macOS 10.12 or later, 64-bit processor
EVO Requirements:
If your EVO does not meet these requirements, please contact our support team.
If all of the requirements are met, you can install the Final Cut Pro X Extension from the Mac App Store.
Please note: This will install an application called ShareBrowser FCPX Extension.app that must be run one time in order to install the extension.

To open the extension in Final Cut Pro X, click the ShareBrowser button.

You can also choose it from the menu at Window→Extensions→ShareBrowser.
The first prompt will ask for the IP Address of the EVO that contains your ShareBrowser database.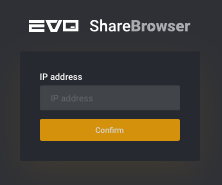 You will next be prompted to log in with your ShareBrowser Credentials.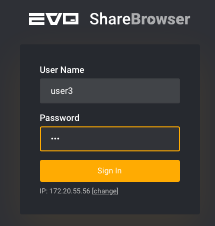 The ShareBrowser Workflow Extension for Final Cut Pro X works much like the ShareBrowser Web App. You can add tags, comments, or search metadata to find files. You can also create and edit bins.
A key difference with the workflow extension is that you can also drag files directly to a Final Cut Pro Event or directly to the timeline.
Check our blog post for more on what you can do with the ShareBrowser Workflow Extension for Final Cut Pro X, or watch the video below: