If you are not using SANmp volumes with your EVO, and would like to make the footer warning message disappear:
"Unable to login to SANmp with error 1031, will retry to login every 5 seconds"
Navigate to the ShareBrowser Preferences menu, and uncheck the checkbox for "Enable SANmp Login".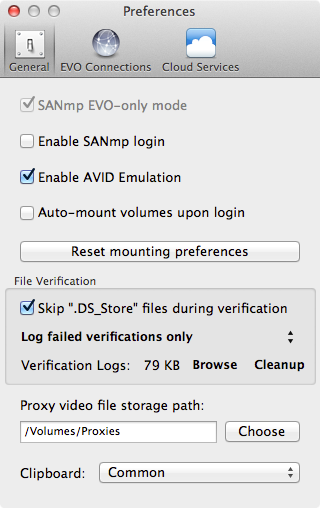 You will then be prompted to logout of ShareBrowser Client and log back in for the change to be reflected.

If you are using SANmp volumes, and are having trouble logging in to the volumes with ShareBrowser, make sure your iSCSI Targets are connected using our globalSAN iSCSI Initiator on the Mac, or Microsoft's iSCSI Initiator for Windows. If you connect to SANmp volumes via Fibre Channel, check to make sure your Fibre Channel Adapter and cabling are properly connected.